Three generations in photo shoot for "Moms&Daughters" line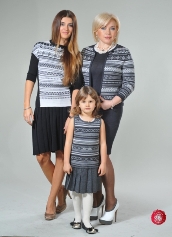 Three Bilozir generations – Oksana, Larisa and Anna-Maria – were shot for a new photo-session in garments from "Moms&Daughters" collection by RITO Fashion House.
Grey-white and blue colors refreshed with traditional patterns in red along with accentuated elegance of the silhouettes underline the femininity of the models, whereas their beauty and sincere smiles embellished the looks of the collection.
The designers of RITO Fashion House admit that it is the beauty and sincerity of the looks of Ukrainian women that inspire them for new collections and similar projects.
Ukraine Fashion Week