Bellemaison unveils Disney princess-inspired lingerie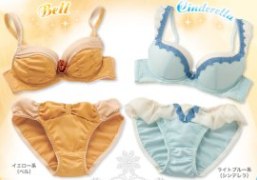 Till now the fashionistas used to drool over the sumptuous gowns sported by their favourite Disney princesses, but now a Japanese online retailer named Bellemaison has come up with a novel lingerie collection inspired from some of the most popular Disney characters of all times.
Available for sale at the e-commerce site's Disney Fantasy Shop category, the luxurious pieces are based on the frothy voluminous dresses worn by the beautiful princess in the movies like 'Beauty and the Beast', 'Sleeping Beauty', 'Tangled' and 'Cinderella'.
Belle's bra and knickers set is inspired from the character's famous golden gown, featuring yards of gathered fabrics and a cute bronze bow, whereas the Cinderella ensemble has drawn inspiration from the frosty blue ball-gown with feminine trims and billowing white chiffon accents.
The Aurora set is based in a romantic pink palette decorated with elegant rose lace border and the Rapunzel's lavender colour lingerie has taken cues from the character's beautiful lace-up dress in the movie.
Fibre2fashion News Desk - India