Rag & Bone unveils Fall/Winter 2014 menswear line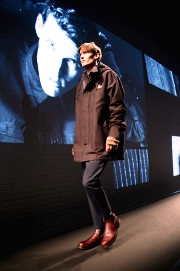 American fashion label Rag & Bone recently unveiled its latest Fall/Winter 2014 menswear collection inspired from the contemporary streetwear looks mixed with military vibes.
Created by the brand's New York-based designers Marcus Wainwright and David Neville, the line included a balanced mixture of both sharply tailored ensembles as well as staple wardrobe pieces.
Accented with lines of shearling, the range featured sleek leather jackets, cable knit cropped sweaters, oversized green canvas coats, hooded anoraks, numbered T-shirts and 1950s-style pleated high-waist pants.
Founded in 2002, Rag & Bone operates through a network of 700 multi-brand establishments and 12 exclusive stores.
Fibre2fashion News Desk - India