Satya Paul debuts saree line 'Yukata' worn in three styles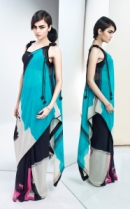 A casual variation of the kimono, the traditional Yukata is unlined and made with straight seams and wide sleeves.
Inspired by the wearability of the garment, the Saree variation incorporates a pre-stitched skirt with and an extended pallu.
Depending on the wearer's preferences, the Yukata Saree can be draped in three different ways.
Ideal for the Indian summer, slip this garment on like a dress and accessorize with an obi belt.
Satya Paul