Gucci Silk Artisan Corner unveils iconic flora motifs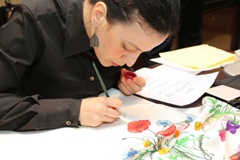 Gucci showcased its skilled and meticulous Florentine craftsmanship through a Silk Artisan Corner. The artisan offered a unique viewing of time-honored traditions, presenting the drawing technique of the iconic Flora Foulard and personalizing scarves with guests' initials. To celebrate the iconic Flora motif, an exclusive new scent from the family of Flora fragrances, Gucci Flora 1966, was unveiled.
The flora print dates back to 1966, when Princess Grace visited Gucci's Via Monte Napoleone store with her husband Prince Rainier. On that occasion, Rodolfo Gucci wanted to present her with a special gift and commissioned artist Vittorio Accornero to create a floral pattern for an original silk scarf.
The response was a silk scarf printed with nine bouquets of flowers from all four season, with berries, butterflies, dragonflies and insects in a beautifully graceful, richly colourful and truly enchanting illustration. Among the classics, Flora is a symbol of continuity from the Gucci archive, a design that revives every season with its evocative and timeliness graphic power.
Gucci