Scabal adds Detlev Diehm as new artistic director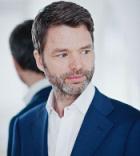 Scabal has decided to enhance its image by appointing Detlev Diehm as its new artistic director.
This designer, of German origins, cut his first professional teeth creating garments for theatre and opera before putting his creative talent at the service of several highly reputed men's fashion companies.
He is responsible for the full line of garments and accessories and has set himself the mission of creating greater cohesion between the notion of modernity and remaining true to the tradition and expertise that are the hallmarks of Scabal.
Detlev Diehm's first 2014 Autumn/Winter collection is distinctive in its audaciousness and one will be able to discover it very shortly.
Scabal