Shingora unveils luxurious silk & cotton scarves line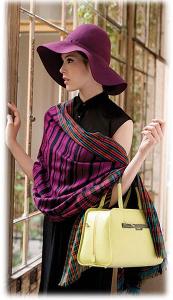 Add a pop of colour to the neutral travel plans this season with Shingora's collection of scarves and stoles. As the French say - á la mode; an exquisite scarf takes one from a tourist to a world traveler in seconds. Be it a cover up when it's cold in a flight or to wrap around the head to fight the messy travel tresses, a scarf is a must have travel accessory.
Shingora offers a wide range of collection for women, men and a special edition Disney by Shingora for kids. The variety includes scarves for all ages in an eclectic mix of colours and patterns in luxurious cotton, silk and linen fabrics.
Whether draped around the neck and shoulders or around the head or wrapped around as a sarong, scarves and stoles are a must have in the backpack. It is where the fashion meets the travelista.
The brand was conceived to create an impeccable taste for high-fashion accessories with exceptional quality and alluring designs, perfect to fit the modern age wardrobe. They are the largest manufacturers and exporters of an exquisite variety in shawls, stoles, wraps, scarves and pocket squares for women, men and kids in the country.
Shingora