Miss Universe Gabriela dons Yamamay at Miami Fashion Week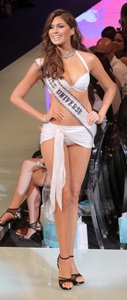 During this international fashion event, on May 17, Yamamay proudly walked the runways starring the gorgeous Miss Universe 2013, Gabriela Isler, modeling the pieces from Summer 2014 collection.
A further important step in the international projects of the Pianoforte Holding and especially of the Yamamay brand: the attendance at the Miami Fashion Week was a huge success that opened the doors to US in style.
Special guest Gabriela Isler, Miss Universe 2013, added a touch of class and magic to the catwalk, thus sealing the already strong bond with Donald Trump's organization that will make Yamamay even more protagonist in the upcoming Miss Universe editions.
Stunning swimwear and beachwear livened up the Miami Beach Convention Center and the "touch of Italy" was appreciated and recognized in America too.
Yamamay added an exotic touch to its show: directed by Sergio Salerni and music by Ben Dj. It's the first of many projects expected for this year.
Miami Fashion Week