Italian knitwear brand Momoe' forays in UK with SS'15 line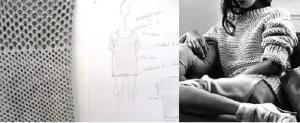 Italian high technology knitwear momoe' is launching in the UK with the new "Global & Romance" collection for Spring Summer 2015.
Cristina Abriani, founder and director of her London based CHIC-ca Fashion Showroom, is in charge of the launch and management of the brand in the UK, "I am confident in a tremendous response for this truly amazing brand. Knitwear at high level is in great demand in the British Market and with the offering of innovative style and the use of truly creative and highly technologic fabrics, momoe' is ready to create a stamp within the knitwear market".
As a guarantee of truly made in Italy sophistication, momoe' comes with 40 years of knitwear production experience. Based in the suggestive and traditional garment area of Asolo, north of Venice, it was first established in Italy in 2009 by the family behind the official knitwear supplier of some of the most known Italian luxury brands from Versace, to Valentino, from Moschino to Dolce & Gabbana.
For the SS15 collection momoe' introduces Italian Taste & Global Culture featuring Romance and Sensuality, Entertainment and Originality and will hit the UK stores from December 2014.
Momoe'