JADE by Monica & Karishma unveils classic 'Rani-Haar' line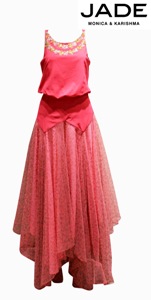 Emblematic of royal days gone by, at JADE by Monica & Karishma, present its classic take on the eternally graceful Rani-Haar.
The traditional rani-haar is an elegant and awe-inspiring neckpiece that acquired a myth-like status.
Jade presents a modernized Rani-Haar titled Royal Strokes for the well-heeled woman!
Classic silhouettes with a hint of mystery, the line also features embellished necklines (mais naturellement!) accented with gold and silver Japanese bugle beads against a field of detailed print. Intriguing details such as sheer backs – great for chic events!
JADE by Monica & Karishma