Kering & London College of Fashion promote sustainability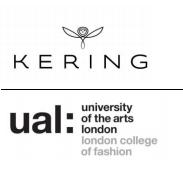 The French owned fashion conglomerate Kering is set to sign a five-year-long partnership deal with the London College of Fashion's Centre for Sustainable Fashion (CSF) to support sustainable practices and innovation in the fashion industry.

The new venture, which will function in collaboration with the design school's students, designers, teaching staff, researchers and industry experts, will aim to engage into various innovative initiatives to promote ethical fashion and nurture young talents.

The deal will comprise three main projects- The Kering Talks by key industry leaders, an annual contest for student designers 'The Kering Award for Sustainable Fashion' and the yearly co-development of academic modules for the sustainable design courses.

Slated to be held every year in the month of October, The Kering Talks segment will see a number of key fashion visionaries and business leaders speak on the latest developments in the area of sustainable fashion and share new thinking and breakthroughs in best practice.

Organized jointly by Kering brands and the CSF, the students' contest, which will be open to all third-year BA and MA students from the fashion design, management and communications disciplines, will require the contestants to provide creative and achievable solutions to a project brief defined by Kering.

The academic module, which will be taught each year at the LCF, will be co-created by Kering, CSF and a team of industry experts, researchers and academicians. The module will focus on the role sustainability must play today and will provide the students with knowledge and tools for their future professional life.

The Kering Chairman and CEO, François-Henri Pinault, said in statement, "I am very proud to be inaugurating this partnership with London College of Fashion, which has a long history of leadership and commitment to sustainability, a value also integral to Kering's strategy."

"Our shared vision on the importance of empowering young talent, combined with our industry knowledge, will encourage the next generation of fashion professionals to place sustainability at the heart of their future careers. Our collaboration will help make sustainable fashion a business reality," he adds.

Professor Frances Corner OBE, the Head of London College of Fashion and Pro Vice Chancellor of University of the Arts London, also echoed the sentiments, "We are absolutely delighted to be working with Kering, whose portfolio includes the world's most respected luxury brands, on a five year partnership."

"Kering's commitment to sustainability mirrors our own ethos of Better Lives - using fashion to transform lives and create a more sustainable future. Sustainability in business is no longer an adjunct; it has to be integral to a new way of working. By collaborating with Kering in three key areas, placing people and our environment at the heart of what would do, we can make real progress," states the educator.