India's Anita Ahuja to present ethical fashion in Paris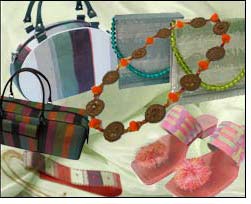 Anita Ahuja is all set to present her 'Conserve' collection on September 13, 2007 at Alter Mundi Gallery, Paris. The theme of the exposition is to emphasize the relation between Sustainable development and ethical fashion. A wide range of useful and attractive high-fashion products designed by Indian and International designers will be displayed. Please find enclosed an intern note on exposition in French.

She will talk about her ongoing work on calculating how much CO2 is saved in the air due to the recycling of the waste plastic bags used. In addition to putting the percentages of the saving in CO2, it is a question of comparing them with daily gestures to sensitize the purchasers so that everyone makes a responsible purchase.

Conserve, will also be showcasing the handbags recycled from plastic bags found in the rubbish dumps of New Delhi at the Paris Exposition. Plastic bags are seen as an environmental hazard as they are non-biodegradable. Conserve has employed waste-pickers to collect New Delhi's thousands of discarded plastic bags, sort them on the basis of colour and wash them. The bags are then moulded into thick sheets and stitched into colourful handbags. (Pictures attached) Even the process of creating the various hues is environmentally-friendly. No dyes are used and the original colour of the plastic bags is retained.

Plastic is a Global problem. There are some NGO's who believe in advocacy but we try to promote recycling through our products that are made from Hand Made Recycled Plastic. Today, the project creates employment, direct and indirect, for around 300 persons providing them with an opportunity for upward mobility and more opportunities for their entire families. Whole communities can be supported through our business model by further developing the collection centres and fabrication units, while creating cleaner and better place to live in.