Daniel K collection continues to amaze jewellery lover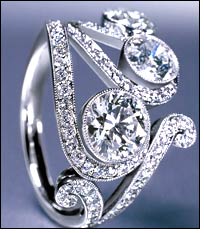 Damas, the leading international jewellery retailer in the Middle East, has unveiled Daniel K's new and highly stylised fine diamond jewellery combining handmade platinum settings and diamonds in a stately assemble of jewels such as Empress-worthy cascading chandelier earrings, drop earrings, intricate cuffs, bewitching brooches, rings, necklaces, bracelets and pendants.

Hailed for his instinctive understanding on how to maximise the brilliance of each precious diamond used, Daniel K fuses tradition with fresh modernity in pieces bearing his signature style.

"Daniel K's latest collection continues to amaze the jewellery lover with a sparkling treatise of his favourite stone displaying awesome and incredible craftsmanship. It will definitely be welcomed by the growing number of fashion conscious women in the region.

They are sure to find these creations fitting accompaniments to their fashionable attire," said Tawhid Abdullah, Managing Director, Damas.

Daniel K creations rejoice in all the four indices of a perfect diamond – cut, carat, colour and clarity. One of its strikingly pretty pieces is its necklace from the Web collection featuring a criss-cross pattern of asscher-cut diamonds with a total weight of 77.10 carats.

Its slim and beautiful Starlet bracelet displays cushion-cut diamonds gliding around the wearer's wrist. You will discover that its Echo collection celebrates the perfection of geometry in eye catching pendantsand earrings while its Orbit collection superimposes several ellipses that access both space and form in alluring combination.

Daniel Koren, creator of the brand, said: "The latest pieces in my collection exude an intense passion to please those who truly appreciate the beauty of diamonds.

They could be sculpted 'ice' frozen for eternity! Sparkling with the purity of cut and facet, each stone is aligned in perfect symmetry, on handmade platinum settings in a joyous fusion that offers jewels of ardour.