Hard Rock edun LIVE t-shirt with Bono image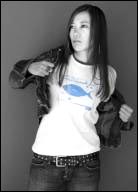 U2's Bono is recognized as one of the world's greatest performers and activists. Now, through edun LIVE's partnership with Hard Rock, Bono is combining his love for music with his wife and EDUN co-founder Ali Hewson's work toward sustained development in Africa. Hard Rock International is proud to launch its latest Signature Series, featuring an edun LIVE t-shirt, adorned with an image by Bono.

Hard Rock's Bono Signature Series T-shirt combines EDUN's Trade for Aid ethos and conscious consumerism with raising funds to benefit African cotton farmers, while creating jobs for African garment workers.

Proceeds from the T- shirt sales will benefit Wildlife Conservation Society's Conservation Cotton Initiative, which helps lift African farmers out of poverty by providing education on proper land management, organic cotton growing techniques and wildlife conservation.

Since it was established in 1971, Hard Rock has been committed to a wide variety of philanthropic causes and activities around the world. In 1990, Hard Rock International developed the concept of partnering with world- renowned musicians and bands, who create and donate imaginative designs to be reproduced onto T-shirts to benefit the artist's charity of choice.

Bono is the 25th artist in Hard Rock's Signature Series, and joins music icons and legends, including Sting, Eric Clapton, Bruce Springsteen, Green Day, Ozzy Osbourne and Shakira, helping to raise millions of dollars for a number of charitable causes worldwide, such as Crossroads Centre Antigua, World Hunger Year, Amnesty International and more.