Damas beckons men to world of Italian Baraka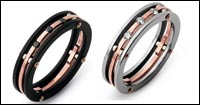 Damas, the leading Italian jewellery retailer in the Middle East showcases Baraka, the first and only Italian jewellery collection for men.

Backed by three decades of know-how on the techniques, materials and craftsmanship that define men's jewellery, Baraka is an important benchmark in its field.

Conceptualised to purely satisfy male vanity, Baraka combines gold, stainless steel, rubber, high-tech ceramic and precious stones to offer bracelets, pendant chains, necklaces, rings, money clips, earrings, cuff links and key chains, in styles designed to accent a man's individuality.

"As part of the well known Italian Luxury Industries, Baraka offers a world of jewellery for men to indulge in. Defined lines, superb finish and experimentation with a variety of materials characterize the distinct creations that merge effortlessly into a man's personality, making it one of our best selling collections," said Tawhid Abdullah, Managing Director of Damas.

Particularly riveting, (with a hint of mischief and abandon thrown in) is Baraka's latest collection, Casino which incorporates motifs such as dice, playing card symbols, horse shoe and the roulette wheel in bracelets, necklaces, cuff links, pendant chains, key chains and money clips.

Mr. Giancarlo Chimento, CEO, Italian Luxury Industries said: "The latest eye catching and attractive Casino collection plays with white gold, pink gold, rubber, stainless steel and black steel to present temptations galore.