Jaeger womenswear collection for S/S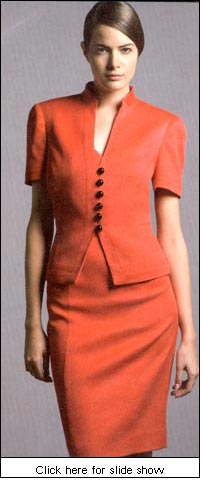 The spring/summer '08 Jaeger Collection is inspired by the many facets of a woman's lifestyle, with six distinctive wardrobe-building looks that cross the season.

Everything is beautifully coordinated and features Jaeger's exclusive detailing.Jaeger continues its design initiative with the launch of a new collection, Jaeger Limited.

Designed for the customer who demands something extra special, Jaeger's Limited Collection sits within the main collection as an exclusive modern capsule wardrobe with beautiful pieces that move fluidly from boardroom to elegant evening soiree.

Classics are redefined with the immaculate pinstripe suit with its waterfall collar, teamed with a fluted hem skirt or the couture-like sleeve of a silk black and ivory abstract print dress. Complete the look with a perfectly proportioned spring coat with multi-button detailing.

These are beautifully unique pieces for the ever-discerning woman. Overall the Jaeger womenswear collection epitomises soft femininity with its delicate floral prints, soft silk georgettes and crepe de chine, offset with super-lightweight suitings, all in a monochromatic palette of black and ivory with highlights of bright fuchsia.

Classic pinstripes and fine Italian birdseye tailoring are cut into beautifully finished sharp silhouettes, softened with floral chiffon blouses or the pleats and gathers that give white shirts a newly feminine edge.

For more decorative looks, a black and ivory shadowed floral silk cotton ottoman is cut into a softly tailored shift dress and jacket, complete with matching accessories for that special occasion.

Vivid fuchsia perfectly complements the soft feminine appeal of a layered crepe de chine dress and coordinating empire-line coat with immaculately proportioned A-line shaping and on-trend ¾ sleeves.

A soft, casual aesthetic comes into play for a collection of cosmopolitan pieces in tonal greys and black, lifted with highlights of white and lavender for coordinating shirts and knitwear.

There is a cool, urban feel to the gingham check trench and a touch of luxe sport in the iridescent parka or cropped collarless jacket, all perfectly pitched to work back with beautifully cut trousers and graphic striped knits or tees.