IMAGES ITF in Jan at Mumbai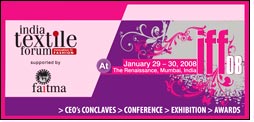 IMAGES is proud to launch the India Textile Forum (ITF) at the 2008 edition of INDIA FASHION FORUM (IFF) scheduled for January 29 & 30, 2008, in Mumbai. ITF is supported by The Federation of All India Textile Manufacturers Association (FAITMA).

CONVERTING CHALLENGES INTO OPPORTUNITIES:
Worried about appreciating rupee and declining export earnings?

Explore new emerging opportunities. Opportunities abound. The question is, how to make the most of these opportunities, and do it faster.

And this is what the conference at the India Textile Forum will try to find an answer to.

India is becoming fashionable. An increasing number of fashion brands, fashion stores, fashion media, fashion weeks and fashion events – all have contributed to the growing fashion awareness and stoked the need to look and feel good, among the old and the young alike. The burgeoning fashion business owes a lot to the new innovations by textile majors which have helped fashion brands to excite consumers with new lines of products.

While names like Raymond, Arvind, S Kumar's, Oswal, Bombay Dyeing, AV Birla Group, Century and Siyaram's have already made substantial presence in the home market, Reliance has relaunched Vimal, India's first mass-fashion brand, in a big way and is also bringing in a bouquet of global brands to India. Garden, too, is known to be working on a comeback. The home market is buzzing with new names flashing in the media and the glitzy malls.