Bespoke jewellery, from concept to creation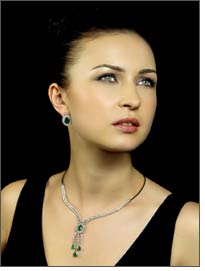 What can be more fulfilling than to know that you are wearing a unique jewellery piece crafted especially for you, either as a personal indulgence or as a gift from a loved one! And it is no more a dream as Liali Jewellery, leading retailers of branded and custom-made jewellery, specialises in hand-crafted ornaments, made to order in white or yellow gold with diamonds.

From concept to creation, Liali offers a unique service to manufacture 'one-off' pieces to match one's lifestyle. They are imaginative, fuse personal style and carry an exceptional interpretation of the classic and modern.

Anuraag Sinha, Managing Director of Liali Jewellery, said: "Depending on the design of the piece, as well as the materials used, we try to make every piece ourselves in Dubai or sometimes even send it abroad to specialised facilities to maintain high quality standards."

These custom-made pieces are created mostly for residents belonging to the upper segment of society in the country who are looking for distinct designs that are not available in Dubai off-the-shelf, even in high-end boutiques.

Anuraag maintained: "We use special coloured diamonds and fancy shaped diamonds depending on the design of the piece which remains exclusive to our valued customers."

He explained customisation also takes place in their regular Memories line which caters to the middle to upper-middle segment of the jewellery market.

It consists of a very classic and elegant line in solitaire diamonds, wherein customers usually want to upgrade and increase the carat size of their diamonds.