Ajmal ready for another plunge in a pool of fragrance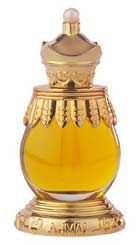 Ajmal, a leading fragrance house, spreading its essence in the middle east region for over fifty five years, is once again ready to lure its customers by introducing yet another set of perfumes named 'Essentials'.

'Essentials' as the name itself suggests, is a must have for every man and woman, whose quest for being tasteful and classy continues. Ajmal offers a set of three aromas comprising Dawn Morning, Zenith Afternoon and Dusk Evening.

While ensuring an uncompromising quality in its creations, Ajmal occupies an exclusive forte in the world of perfumery, especially in the creation of fine oriental fragrances.

Essentials, the fragrances that are created for the entire day, can keep you bright in the morning, refreshing during afternoon and make your evenings ethnic, are available across all Ajmal showrooms and selected dealers from all over the Middle East. The collection for men comes is blue whereas the set for women is available in green.