Making debut outside Europe: 'Marc O'Polo'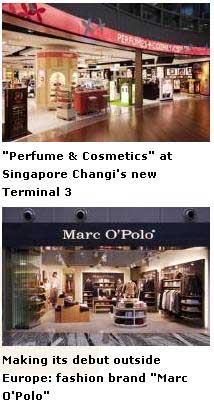 Singapore Changi Airport's new Terminal 3 opened on January 9, right on schedule. The same day saw the opening of new outlets operated by Nuance-Watson (Singapore) across the terminal: six "Perfume & Cosmetics" stores, the first ever "FIFA Official Store", the first "Marc O'Polo" fashion store to open outside Europe and a "Tosto" Italian coffee shop, the first introduction of the concept outside Italy.

Just months after having been awarded one of the most coveted concessions for a key international hub, Nuance-Watson (Singapore) proudly presents six new "Perfumes & Cosmetics" shops covering a total of 1,459 square metres, to complement its existing offer at Singapore Changi Airport: a landside check-in store already introduced to the public on November 12, when the terminal had its "Open House"; a central Mega store and two satellite-wing shops in the terminal's departures area; and two arrival stores.

The breathtaking new design of the stores appeals to the senses: Sight - the clean, fresh, white store décor with subtle splashes of the signature pink and intermittent, colourful displays of visuals and promotions create excitement and curiosity; Scent - travellers are spoilt for choice by the large array of international as well as niche fragrance brands; Touch - travellers can enjoy pampering mini beauty treatments, quick makeovers or even play with the "Michael Edwards' Fragrance Finder" an easy-to-navigate interactive software programme allowing users to gain insight into the components of their favourite scent or to help them with gift. Nuance-Watson is the first company to introduce the programme in Singapore.