Keeping up with fast fashion, EUREKA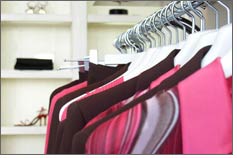 As high street shoppers scramble to stay up with catwalk trends, retailers produce more and more collections every season. European textile printers will have a better chance to keep up with the pace, thanks to new printing technology developed by EUREKA project E!3285 FACTORY COPRITEX.

For decades, ordinary shoppers have dreamed of being able to pay for some of the best designs by chic French designers. Nowadays, though, they get closer than ever to catwalk trend setters like Jean Paul Gaultier, Yves Saint Laurent, Prada and Gucci - and for a snip of the price.

The Spanish hit brand Zara, made by Inditex, is largely credited for inventing what analysts have come to dub 'fast fashion' where designers imitate catwalk models at head-spinningly fast speeds, getting them onto the high street cheap enough so that we can wear them even if we aren't film stars. Zara is not the only one. Swedish brand H&M or French label Kookai are designing stylish clothes that don't cost the earth.

The turnover of clothes in the shops is remarkable in today's highly competitive retail market. "The number of collections used to be four per season and now it is something like one collection per month", says Alain Dunand, Vice-President of business development at French ink-jet printing specialist Imaje, the company responsible for leading the EUREKA project. "Zara replaces 50 percent of its collection every two weeks", adds Haje van Wezel, Chief Executive Officer of Osiris Digital Printing, who worked alongside Imaje.