Pure Spirit offer new fashion talents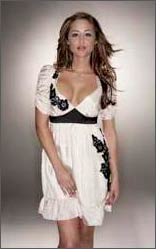 Spirit – Pure's sweet, edgy section of young creative must-have labels for the confident fashionistas is launching its own catwalk, bringing fashion to life in bright and vibrant surroundings. Showing 10-12 February 2008 at Olympia London, Pure Spirit offer new talent to complete the offering for autumn / winter 2008;

Pieszak is a strong new Danish fashion brand launching at Pure targeting the sassy yet feminine woman. The main focus for the autumn/winter 2008 collection is jeans that enhance and flatter the female body, follow fashion and give a female look. Other key pieces also include outerwear, knit, semi tailored outfits, tees and shirts; all of which offer design, fit, comfort and quality.

Gia London, launching this season, encapsulates English style with exotic edge: from the colours of tropical shores to the virgin fields of the great English countryside, mixing vintage inspired elements from across borders. The collection on show is best described as, sexy yet playful, feminine yet girlie, precious yet effortless.

Applebottom's collection heats up frosty capped mountains with python prints and snake embroideries. Poison would be an under statement when watching the Applebottoms girl walk down the street. Key pieces include corset waisted jeans, Deep V-neck halters, sleek Satin pants and shorts. Sex appeal is not something that will be lacking this season.

Peggy Sue is a new women's t-shirt brand showcasing a collection of limited edition American Retro design t-shirts in a range of fashionable colours. A celebration of nostalgia is reflected in the designs depicting fun, reminiscent of the 1950s. All t-shirts are soft, top quality cotton and styled to fit and flatter the female form.