Delectable combination of pearls & diamonds by Paspaley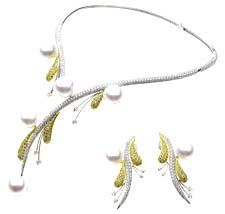 Paspaley, the pearling pioneer and jeweller extraordinaire lines up three sets of very tempting attractions in a delectable combination of priceless South Sea pearls, diamonds, white gold and yellow gold.

Offering collier neckpieces, pendant necklaces, stud earrings and finger rings, this well known jeweller reveals its superb mastery once again.

"Paspaley is recognized as one of the most innovative jewellers in the world. It has admirably kept up with the demands of the times by offering pieces that match the aspirations of contemporary women.

In this collection it offers three splendid sets blending classical lines with avant garde finesse that is sure to be adored by women in the region," said Mr. Tawhid Abdullah, Managing Director of Damas.

Paspaley has always sought to showcase the stunning beauty of its remarkable gem -the South Sea pearl -- in creations that match and pay tribute to its glory.

And this aspect is brought out in its latest collection with wonderful results. But of course, you realize that when it is a Paspaley piece you can never expect anything of lesser splendour.

Take for instance its collier piece with matching stud earrings - its graceful curves highlight the charming combination of white and yellow diamonds, with South Sea pearls.

The piece is unusual in every way, as it is designed to wind itself from the base of the wearer's neck on the right, move clockwise, curve shyly and drip down to finish its journey near the wearer's heart!.