'Victoria's Secret: What is Sexy? Valentine's Day party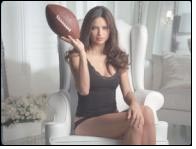 Victoria's Secret will advertise during FOX's broadcast of the National Football League's Super Bowl XLII airing on Sunday, February 3rd.

The advertisement is part of the brand's Valentine's Day marketing efforts, which also include a pre-Bowl VIP party, the release of the What Is Sexy? 2008 list and the premiere of the "Victoria's Secret: What is Sexy? 2008" television special airing on E! Entertainment Television.

"Valentine's Day is an important holiday for the brand and with this year's Super Bowl being positioned so close to February 14th, we had a unique opportunity to use one of the year's highest rated television programs as a vehicle to launch our efforts surrounding Valentine's Day," says Victoria's Secret Chief Marketing Officer Jill Beraud.

Victoria's Secret Angel Adriana Lima stars in the 30-second spot, which was creatively conceived in-house for the Super Bowl.

The ad's only broadcast TV airing will be during the Super Bowl telecast February 3; however the ad will be posted to the Victoria's Secret website at midnight after the game until March 11th.

The brand last ran a spot during the 1999 Super Bowl telecast to dramatize that year's upcoming Victoria's Secret Fashion Show webcast and pull attention to the Victoria's Secret website which had launched in 1998.

The result was groundbreaking 1.2 million people left their Super Bowl viewing to log on to the Victoria's Secret website after the commercial ranin the first quarter of the game. The live webcast of the fashion show which occurred a few days later drew a then record-breaking 1.5 million viewers, crashing the website.