Fashion Business circulates R$ 370 million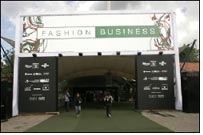 The 11th Fashion Business, a business event held parallel to Fashion Rio and at the same location (Marina da Glória) concluded January's activities with estimated sales of R$ 370 million for the domestic market, 12% more than the winter's last edition in January 2007.

For the foreign market, Fashion Business accounted for US$ 15.5 million in foreign sales to more than 20 countries, underscoring the US$ 2.5 million in purchases made by a single buyer from the Philippines.

ABIT, through the Texbrasil Program, developed in partnership with Apex-Brasil, brought 33 international buyers to the country. However, the event saw the presence of 58 other buyers who came spontaneously from other countries.

"Our business volume is growing about 10% with every edition and that shows we have chosen the right products to be included, since wanting to participate is simply not enough. The brand has to be approved by a curatorship that chooses differentiated products," explains Eloysa Simão, director of Dupla Assessoria, which organizes Fashion Business.

Australian buyer, Dominique Nestel, has already been to the event three times and said she always finds good brands.
"With the contacts I made this edition, I should develop business to the tune of US$ 1.4 million over the year.

I greatly enjoyed Coven, Gisele Barbosa, Lucidez and Cantão". Buyer José Bonfé, from France, prefers not to speak about business volume, but was also excited aboutbuying despite the exchange rate.