Kate Bosworth - New face of Calvin Klein Jeans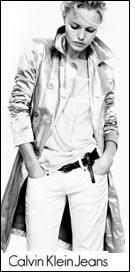 Kate Bosworth has been chosen as the new face for Calvin Klein Jeans. The Hollywood beauty, who has been a part of famous projects like 'Blue Crush' and 'Superman Returns', first appeared in CK advertisements back in 1992.

She is a part of CK's Spring/Spring 2008 collection. The actress will be featured in black and white ad campaigns which are photographed by prominent photographer David Sims in L.A. Adorning a metallic trench coat and a pair of white jeans this 25 year old beauty is extremely thrilled about the whole thing.

Kevin Carrigan, creative director of Calvin Klein Jeans told the media that Kate Bosworth was the perfect choice, as she is the true American beauty. Her style and aura flawlessly merge with the new range of the Calvin Klein Jeans line.