Made In Italy Campaign starring Isabella Rossellini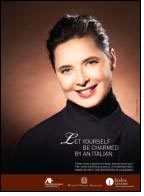 The Italian Trade Commission-ICE is honored to announce iconic Italian-born actress, model and business entrepreneur Isabella Rossellini as spokesperson for the new 'Made In Italy' advertising campaign to be introduced to the United States in February, 2008.

Shot in the city of her birth, Rome, the new Made In Italy TV, print and radio campaign celebrates the high-quality sophistication and luxury of Italian fashion, accessories, jewelry and home products.

In the new campaign Isabella Rossellini challenges Americans to "Let yourself be charmed by an Italian", highlighting the perfect style and passion for handcrafted detail that makes Italian products so special and unmistakable.

As Ambassador Umberto Vattani President of the Italian Trade Commission- ICE comments; "With this exciting new campaign, we are proud to showcase the exceptional heritage of excellence to be discovered in Italian-made products, and we celebrate the charm and elegance of the Italian lifestyle as experienced through the enchanting world of fashion, accessories and interior decor."

Ms. Rossellini was chosen by the Italian Trade Commission-ICE, as an authentic and iconic ambassador for Italian style. Italian Trade Commissioner and Executive Director for the USA.

Aniello Musella adds, "Isabella Rossellini's beauty, intelligence and personal commitment to artistic culture personifies the values of the Made In Italy campaign.

Ms. Rossellini is the very definition of Italian elegance and culture we wish to celebrate in this new advertising campaign.