Motexha leads way as biggest garments & fashion event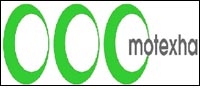 The United Arab Emirates and Dubai in particular, is leading the way as it vies to become one of the world's fashion capitals and bids to attract 15 million tourists annually by 2010. Dubai is already the major regional hub for textile imports and re-exports.

Recent statistics from UK-based research company Retail International confirm Dubai's dominance with 30% of the total retail space in the Gulf Co-operation Council (GCC) region. In 2008, Dubai will also become home to five out of the world's seven largest shopping malls.

Motexha, an interactive platform for industry professionals which this year takes place at the Dubai International Exhibition Centre from 31 March to 2 April 2008, continues to drive the region's textiles industry, estimated to be worth over $12 billion.

"The world's fashion and textile industry cannot ignore the stellar growth taking place in the Middle East market with the UAE the biggest textile fashion market in the GCC," said Jim Meltz, Show Manager for Motexha at IIR Middle East.

"Motexha's visitor numbers have grown consistently over the years because the overwhelming majority is seeking competitively priced products for everyday wear. Manufacturers and suppliers at Motexha appreciate the mass market concept of mid-range, high turnover products."

Dubai has secured its position as the regional textile trading hub according to a recent report by the Emirates Industrial Bank. In 2006, Dubai's textile imports were valued at $3.75 billion - an average increase of 11% over 2002. Dubai saw an even higher surge in terms of re-exports with 13.3% growth during the period from 2002 to 2006 to almost $2 billion.