'Etera' dedicated to Valentine's 2008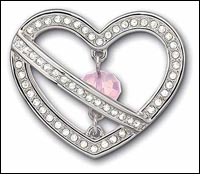 As the universal symbol of love, the heart forms the perfect focal point of this new Swarovski collection dedicated to Valentine's Day.

In honour of this special day, Swarovski has developed an especially romantic piece of jewellery for Valentine's 2008 -the "Etera" necklace.

Produced in three dimensions, the pendant is made up of pavé crystal ribbons wrapped around a delightful crystal pearl in Swarovski's new Rose Water Opal colour.

Representing the loving, protective relationship, this elegant pendant is also available as a brooch.

Beautifully complementing the fashion accessory is this year's decorative object, the "Heart Ornament, Annual Edition 2008".

The piece plays on sophistication and femininity, and features a light ribbon of crystal pearls that counterbalances an elegant pink faceted crystal heart.

As such, it symbolises the fragile beauty of love and emotions.

Every lover will thus be able to find the perfect expression of the eternal, unconditional devotion shared by so many couples around the world.

1. FASHION
- ETERA Pendant
Rhodium plated pendant featuring a Rose Water Opal crystal bead wrapped in a 3-dimensional crystal pavé heart.
- ETERA Brooch
Rhodium plated brooch in the shape of a 3-dimensional crystal pavé heart wrapped around a Rose Water Opal crystal bead.
- EROS Pendant
Pendant featuring a little heart with fire red Siam crystals set with Swarovski'sPointiage technique.