Swarovski Abaya Design Awards shortlists ten finalists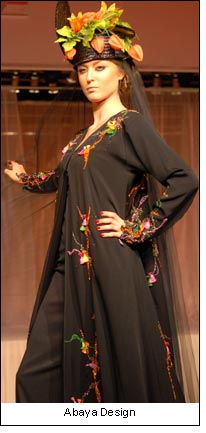 Ten local amateur fashion designers have been short-listed to win the inaugural Swarovski Abaya Design Award, presented by The Bride Show Abu Dhabi.

The award was launched to provide budding designers an opportunity to reveal their creativity and make an entrance into the fashion industry. The awards are sponsored by Swarovski Middle East and endorsed by the Abu Dhabi Ladies Club and the Family Development Foundation.

Jan D'Sa, 32, a freelance writer and one of the finalists, read about the competition in a local newspaper and jumped at the chance to get involved. "I design my own jewellery using Swarovski crystals and have always wanted to incorporate jewellery into fashion, but never knew how to do it," she said.

The organizers of the event were overwhelmed by the response from prospective entrants and the finalists, the majority of whom are UAE national ladies, were whittled down from more than 50 entries. Those now competing for the top honour are turning their ideas into reality and creating their Abayas using Swarovski crystals and the finest materials.

"I'm working really hard to finish the design so that it will be exactly as I had envisioned it. We met designers from Swarovski Middle East and Arabesque Abayas and Sheilas who gave us all advice on turning our visions and creativity on paper into a beautiful Abaya ready to be modelled on the catwalk."

The final designs will be presented on the catwalk by professional models at 5pm on the last day of The Bride Show Abu Dhabi, which takes place from 5- 8 February 2008 at the Abu Dhabi National Exhibition Centre. The catwalk show will be part of the largest fashion event in the UAE capital which brings together leading fashion houses such as Cygnet Fashion, Ghanati Couture and Rahmanian Couture. Sixteen fashion shows will be hosted over the 4-day event.