Fashion Design and Pattern Drafting programme by Esmod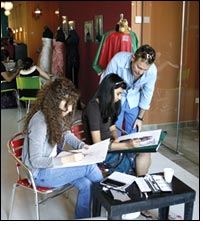 Aspiring fashion designers in the UAE can look forward to broader horizons as French Fashion University Esmod announces the launch of its three-year bachelor's degree programme in Fashion Design and Pattern Drafting for the 2008-2009 school year. The programme is certified by the Paris-based French Ministry of Education.

Esmod, which is located in Dubai Academic City, will also offer three-to-six-month workshops in Costume and Stage Design (to be conducted by an Esmod specialist), Nightwear and Kids Fashion.

These courses will be beneficial to those who have no previous experience in the industry but are eager to learn the essentials of fashion history and design from international experts.

Tamara Hostal, Director of Esmod, is optimistic about the institution's prospects for the coming school year. According to her, "Esmod has been a leading name in the international fashion industry for more than 160 years and has influenced French fashion throughout the world.

As the only fashion university in the Middle East, we are constantly expanding our programmes to keep up with new trends and preferences.

The courses we have lined up for the new academic year has been carefully selected to reflect high-growth areas in the fashion industry, providing our students with optimum career prospects after graduation."

Since Esmod's Middle East campus was opened in 2006, the university's fashion programmes have attracted a significant number of designers-in-training.