Affordable Footwear Act to help hardworking families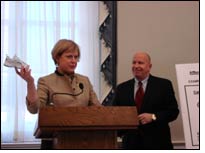 In fiercely bi-partisan world, two well-respected think-tanks from both sides of the aisle, The Heritage Foundation and the Progressive Policy Institute (PPI), came to a consensus – that the Affordable Footwear Act (HR3934/ S2372) will help all of America's hardworking families.

The Heritage Foundation joined PPI in a panel discussion, on Capitol Hill, of their jointly-published policy paper (PPI / Heritage) on the potential, direct positive impact of the legislation, which eliminates the hidden, regressive and high import tariffs, commonly called the 'shoe tax,' on children's and lower to moderately-priced shoes.

Ezra Finkin, Legislative Director of Consumers for World Trade, moderated the event, which also included introductory remarks by Affordable Footwear Act primary co-sponsors U.S. Representatives Kevin Brady (R-TX) and Nancy Boyda (D-KS).

Both representatives are parents themselves and know first-hand how growing-children frequently need new shoes. The unnecessary cost of the shoe tax is a burden on families across America.

Currently, the Affordable Footwear Act is supported by more than 75 co-sponsors in the U.S. House of Representatives.

Daniella Markheim, Jay Van Andel Senior Trade Policy Analyst at The Heritage Foundation, discussed the legislation's potential as an economic stimulus, as it saves consumers money.

Ed Gresser, Director of the Trade and Global Markets Project for PPI, went on to talk about the cost of the shoe tax for an average family, approximately $80 per year.