Celebrate romantic season with Damas jewellery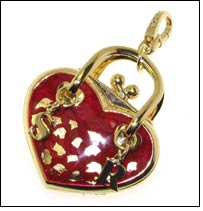 Damas, the leading international jewellery retailer in the Middle East, celebrates the romantic season with an inspired selection of pendants, rings and earrings from some of the world's leading jewellery houses.

The heart interpreted in a wide range of shapes, colours and materials is the icon of choice to signify devotion to your special someone this season.

From top jewellers Mikimoto, La Nouvelle Bague, Io Si, Baraka, Roberta Porrati and Rosato come memorable pieces that allow one to express rich emotions in high style.

These outstanding creations propose a new way to celebrate love and passion – one that is peppered with youthful energy while remaining elegant.

Crafted in 18 carat yellow and white gold, these jewels showcase excellent craftsmanship accentuated by enamelwork and a choice assortment of gems – diamonds, pearls and rubies to add sparkle to any outfit.

Ruling supreme in a realm that marries the Japanese love for aesthetics with western haute glamour, Mikimoto creates jewels that are timeless.

As the realization of its founder's dream to offer pearl jewellery "to adorn the necks of all women of the world," this famous brand continues to astonish with its elegant and beautiful creations, including its Infinity Heart Collection -a romantic range including pendants that showcase cultured pearls mounted on heart shapes.

La Nouvelle Bague celebrates the creativity and skill of the Florentine goldsmith, and looks to artistic forms of every variety for design inspiration.

Its design team carefully studies symbols, signs, codes, and ciphers, and assembles them into new expressions that speak to both wearer and onlooker.