Adidas first Golf Bag in Beijing 2008 with Olympic Logo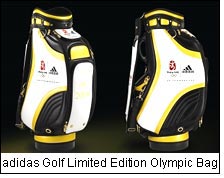 TaylorMade-adidas Golf Company unveiled two very special and unique product offerings to commemorate the 2008 Games, with just 2,008 of these limited edition products available only in China and Hong Kong.

TaylorMade, makers of the number one driver in Golf, introduced a special full set of golf clubs from the r7 XR series of product, including an r7XR Driver, two Fairway Woods and an 8-piece set of irons. The technology and performance of this set of clubs is well-known, including TaylorMade's renowned Moveable Weight Technology weights.

However, for the first time in the history of the company and available only in this limited edition set, TaylorMade has made this entire set of clubs 'golden' –including the soles of the metalwoods, the cavity back of the irons, the rings on the ferrules and all of the club's shafts. Plus, inscribed on the toe of the Driver is the wording '2008 Special Edition.' Rounding out the set is an AGSI+ Inza Putter, which features the coloring of the Chinese National flag, red and yellow.

The entire Limited Special Edition Set comes in a specially-made wooden box which includes a golden plaque indicating the number of the set within the limited series of 2,008, starting from '1 of 2,008' and ending with '2,008 of 2,008.'

"TaylorMade Golf wanted to do something special to capture the pride of the Chinese people in, for the first time ever in their country, hosting the Olympics with the Beijing 2008 Games" stated Mark Klingspon, Managing Director for the Greater China Area. "TaylorMade is committed to helping grow the game of golf in China and this is a way for us to celebrate a special moment in Chinese sports history. This collector's set will help to increase the exposure and attention to the sport of golf in China, at a time when the entire nation's passion and energy are captured by sport."