DIANE von FURSTENBERG promotes to launch her brand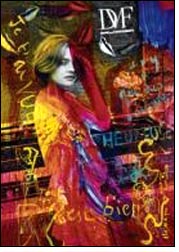 Diane von Furstenberg with the artist Francois-Marie Banier and the creative vision of David Lipman, featuring Natalia Vodianova, has created an unprecedented campaign that infuses the spirit and distinctiveness of the eponymous brand.

"My life is very much the fabric of the encounters that I've had and the respect that I have for the people I've known, including the women who wear my clothes," says Diane von Furstenberg.

The campaign marks von Furstenberg's commitment to establishing her company and her style on their own terms, independent of her image.

As David Lipman says, the intention is "to move the brand away from the person, even though her soul and her spirit are still in it."

Inspired by von Furstenberg's desire to reflect the DNA of the brand the power of women and their courage Banier produced some 50 black and white images, and with strong brushstrokes, smudges, and spatters, he applied bold color and writing to each photograph to create layers of complexity, both visual and emotional, seducing the eye and the mind.

Photographed in Paris and New York, he captured Natalia in a way she had never been seen. "I found her immensely beautiful, with a very interesting soul," says Banier of Vodianova.

But in the end, he says, what inspired him to take on the project was the opportunity to create an image
of optimism in the life of a woman.

Known for his iconic portraits, painting and writing, Francois-Marie Banier's friendship with von Furstenberg dates back to the early seventies.