Tanishq Jodhaa Akbar collection - prêt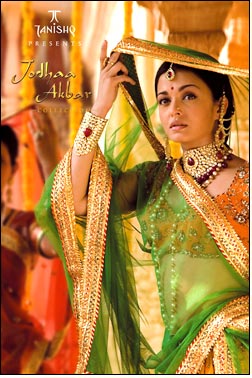 Tanishq, India's leading innovative jewellery brand, unveiled its biggest campaign ever focusing on recreation of "all that glitters" in the upcoming historical epic "Jodhaa Akbar".

In association with the movie "Jodhaa Akbar", Tanishq brings out the divine details of the art forms from the medieval era giving an insight to India's glorious past by creating jewellery complementing the Mughal and Rajput excellence in jewellery craftsmanship.

The campaign highlights Tanishq's initiative to revive unique head to toe royal Jewellery and reviving a lot of beautiful ornaments including sarpech, archer's ring, arsi, bhor, hansli, which are lost in sands of time.

The film, directed by Academy Award nominated Ashuthosh Gowarikar, is an epic tale of love and passion between Akbar, the greatest Mughal emperor and his Rajput wife, Jodhaa Bai. Tanishq's quest for authenticity and fineness is portrayed in Jodhaa Akbar collection. For Jodhaa and Akbar, magnificent ornaments were a part of life that defined their status and royal lineage.

Accordingly, Tanishq bedecked the emperor and his bride with a dazzling array of precious ornaments ranging from elaborate neckwears, rings, bangles, earrings and chains to more traditional pieces such as the sarpech (turban ornament), hathphool (hand ornament) and bhor (forehead ornament)

"Jewellery plays a significant role in my film, right from defining the cultural background of the characters (Rajput or Mughal) to signifying the role the royalty is playing at a specific occasion.

The ornaments had to be created keeping in mind its relevance to the two rich India traditions i.e. Mughals and Rajputs, depicting the opulence of royal trousseau. We needed to collaborate with a jewellery expert that could not only bring alive the past but also create pieces of precision so fine.

And this was made possible by Epigram Advertising that brought Tanishq and us together on this project. Tanishq has crafted jewellery for not only Jodhaa and Akbar, but also other Rajputh kings, queens and Akbar's navratnas.