Premier KIDS to start new chapter with Saba Buckley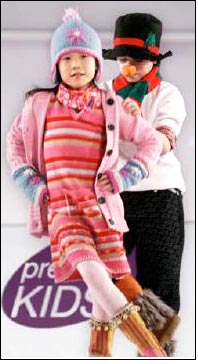 A well attended Premier KIDS took place 27-29 January 2008 with visitor figures (on a par with last year and many of the key buyers throughout the UK and Europe attending.) same year on year.

International presence has been strong making up 11% of (all visitors attending) overall visitor attendance to date, with an excellent good turnout from Poland, Bulgaria, Russia, Germany, Norway, Finland, China and The Netherlands. Buyers from department stores Bentalls, John Lewis and Debenhams and key retailers included Hopscotch, Kids Cavern, Hansel & Gretel, Just Kidding and Applejacks.

Regular buyers Len Tyler and Fiona Williams from LAFF in Cornwall St Ives enthused "you have to come to Premier KIDS to keep your finger on the pulse and know your competition. Even if you look but don't buy at the show, you will follow up afterwards on the phone.

This season there is a buzz, a feeling of energy – the show has been re-lit. We have had a good day, picking up new individual brands and many interesting leads. We are loyal to Premier KIDS and find that people like to order on their home ground."

First time buyer Roberto Gonzalez from Vinarium, Spain, added "Premier KIDS is an accessible show with a good mix of UK and international brands, as well as new and niche products'. Now in italics

The launch of Premier KIDS Eco section proved very successful. First time exhibitor Frugi announced: "Within 5 hours of launching in the new Eco section at Premier KIDS we have met all our existing buyers and seen new promising independents and overseas buyers from Poland, Iceland, China and Bulgaria.