Feb for BFC London Fashion Week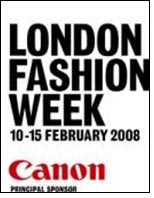 The British Fashion Council announced an exciting and diverse line-up for The Exhibition at London Fashion Week. Over two hundred designer labels, from established favourites to new, up-and-coming names, will come together to show their Autumn Winter 2008 collections.

This year, The Exhibition will open on Sunday 10th February 2008 with a champagne reception for press and buyers hosted by newly appointed Chairman of the British Fashion Council, Harold Tillman.

Visitors to The Exhibition will see accessories including jewellery, bag, footwear and millinery designers alongside over 110 ready-to-wear designers.

The Exhibition will play host to uniquely dedicated areas: New Gen which showcases the works of some of the most promising young names in fashion, this season with a new design and feel, will sit alongside New Gen 'graduates', such as Berube and Richard Nicoll; and estethica, the British Fashion Council's acclaimed ethical fashion showcase which is now in its fourth season.

Hot talent will also join The Exhibition under the umbrella Scottish Textiles, launched by Scottish Enterprise to showcase native designers, and Valery Demure, who has selected three new accessory designers to show for the first time at the Exhibition.

In a city which embraces both tradition and innovation, long-time favourite brands such as Antoni and Alison, Steven Jones Millinery, Linda Farrow Vintage, Mawi, Anne Louise Roswald, Karl Donoghue, MadeleinePress, J & M Davidson, Goat, and Sara Berman, will exhibit alongside newcomers Aganovich, Homebody, Black Dot, and Bryce D'Anice Aime, continuing to strike a creative energy through opposing poles of influence that aids London and its designers to thrive and sustain its reputation as the most innovative of the fashion capitals.

'New Gen' at The Exhibition, sponsored by Topshop, will showcase the collections of talented designers tipped for success, with the space taking on an exciting new format this season.

Set to emulate a cosy East-end pub, the welcoming New Gen area will exhibit the works of the sponsored recipients amongst a traditional bar, complete with dart-board and pool table, which will be covered in print from one of the designer's collections.

In the seated area guests will be able to order food and drinks, with a "Happy Hour" set to take place on Wednesday 13th February between 12noon - 2pm for the designers to meet press and buyers.