Royal Elastics introduces 'King and Queen'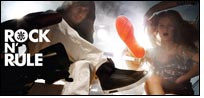 Royal Elastics, the innovative footwear brand, opens its first U.S. retail store, Royal on Main, at 2427 Main Street. The store showcases Royal Elastics' alternative sneakers and flats for men, women and children.

"Here, we can show the entire range of our collections," says Ludo, creative director of Royal Elastics.

Royal Elastics started in 1996 with the radical idea that sneakers don't need laces. Instead, footwear fastens with elasticized shock cord or Velcro.

"It was inspired by kids who went skateboarding and ripped their laces out," Ludo says. "It's easy and fast to put on."

For 2008, Royal Elastics introduces the King and Queen, its new take on the popular vulcanized sneaker. "It's time for something new people, and we have it," Ludo says.

The King, for men, and Queen, for women, are available in high- and low-top versions. They join Royal Elastics favorites like the women's Flonica flat and the men's Icon sneaker.

Royal Elastics was founded in 1996 in Australia, and now has 10 retail stores in Asia. The success of the Asian stores inspired Royal Elastics to open in the United States.

"This is an unedited way to market our brand directly to the consumer," notes David Nichols, president of Royal Elastics.

"There's a lot of momentum with this brand in other markets, so we take a global view. Our international component is vibrant. This enables us to further speak with a unique voice."

Royal on Main takes a rare approach to merchandising: It also sells items related to the themes that inspire Royal Elastics designs.