'Full fashion concept' from Folli Follie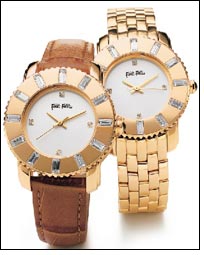 Make way for Folli Follie's ultra chic timepieces - Folli Follie, the global fashion brand synonymous with exquisitely-crafted jewellery, watches and fashion accessories? presents exciting new timepieces for men and women as part of its 'full fashion concept.'

These timepieces which reveal vibrant personality and refined taste have played a major role in the success of the brand and have established themselves as fashionable and affordable alternatives to the traditional high-end watches.

The latest stylish women's watch selection come from the Ceramic Collection, the Rubber Collection and the Jewellery Watches.

The brand also offers unique men's watch lines, creating various designs to suit the changing lifestyles and the need for both a 'primary' and a 'secondary' watch.

Folli Follie S.A.