POWERBAND combines swing-enhancement technologies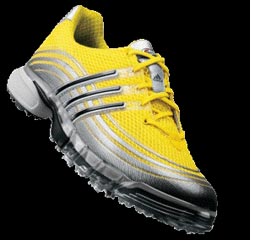 adidas Golf, the most recognizable footwear brand on the PGA Tour, as well as one of the most popular, has introduced the POWERBAND Sport, a remarkable new shoe whose advanced combination of swing-enhancement features and inner climate-control construction make it a unique and must-have piece of equipment for every serious golfer.

What sets POWERBAND Sport apart from the crowd is a proprietary new technology called 50/50 Protect which combines a water-resistant TPU shield with membrane-lined mesh to surround the lower half of the shoe and protect the foot from mud, dirt, wet grass, etc.

The top half of the shoe utilizes lightweight and highly breathable air-mesh for improved temperature management, flexibility, comfort and a bold, athletic look.

In the past, mesh golf shoes have moisture penetration, especially while walking in wet rough; soiling of the mesh from dirt and mud; and a lack of stability. 50/50 Protect technology and the POWERBAND CHASSIS together overcome those hurdles.

The impermeable laminated TPU membrane surrounds and protects the foot beneath the mid-line of the shoe to keep the foot dry. The mono-mesh upper material resists soiling and cleans quickly and easily.

And the POWERBAND CHASSIS lends the stability necessary to allow even better players to build power from the ground up and swing fast and confidently while wearing a mesh shoe.

The POWERBAND Sport shoe also incorporates a variety of additional technologies developed to improve comfort and performance: adidas Golf's POWERBAND CHASSIS is a TPU-midsole frame that cradles the foot to provide increased support and leverage, which in turn promotes greater power and control.