Business-of-Fashion to talk about modern trends & style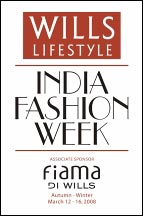 India's biggest Business-of-Fashion event, Wills Lifestyle India Fashion Week, announced another distinctive feature to be introduced at the WIFW Autumn/Winter 2008 showcase next month.

For the first time, participating designers will be showcasing their collections under three new categories: Heritage/Synthesis, Contemporary and Creator. These categories will apply to the collections presented at the designer shows as well as at the exhibition stalls.

The categorization will bring to focus the business of fashion by giving designers the option to showcase their collection under any one of the new categories.

This will also give buyers and media a prior understanding about the segment of fashion they will get to see on the runway and the stalls. It would thereby, facilitate buyers in scheduling the week in accordance with their preference.

As the name suggests designers showcasing under Heritage, would exhibit their collections that will celebrate and promote India's unique legacy of clothing, craft and textile. Closely integrated with Heritage is Synthesis which attempts to merge Indian sensibilities with international ethos.

The contemporary category would incorporate ultra prêt clothing in accordance with the international standards. Under this category the designer gets the freedom to experiment with modern trends and style.

The creator category on the other hand gives free reign to the designer to create something original. The designer has to blend innovation with unique technique to produce a masterpiece.