'We All Walk In Different Shoes' for Kenneth Cole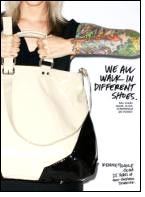 The spring 2008 campaign illuminates the Company's historical use of its advertising to communicate relevant, social messages on the aforementioned causes.

The print campaign will run in March issues of national magazines including Vogue, Vanity Fair, Lucky, GQ and Men's Health. The campaign will also be featured on kennethcole.com and in New York City on the Houston Street Mural and the West Side Highway billboard.

The following individuals are featured in the "non-uniform" campaign:
- AIMEE MULLINS PARALYMPIC ATHLETE, ACTOR, AND PRESIDENT OF THE WOMEN'S SPORTS FOUNDATION.
- THEO KOGAN SINGER, ACTOR, ENTREPRENEUR AND FEMINIST.
- SONNY CABERWAL PRACTICING SIKH AND ENTREPRENEUR SPEAKING OUT AGAINST RACIAL PROFILING.
- DROR SHAUL AND HANY ABU-ASSAD ISRAELI AND PALESTINIAN FILM DIRECTORS, COLLABORATORS AND FRIENDS.
- DELMON DUNSTON (DEL 10) UAD RUGBY PLAYER AND SUPPORT COUNSELOR FOR OTHERS FACING LIFE AS A QUADRIPLEGIC.
- CHANNING MOSS U.S. ARMY SOLDIER INJURED IN THE LINE OF DUTY IN AFGHANISTAN.
- GAY MARRIED COUPLE, JOANNA AND NICOLETTA TESSLER WITH THEIR DAUGHTER, RUTHIE.
- REGAN HOFMANN HIV POSITIVE EDITOR-IN-CHIEF OF POZ MAGAZINE.
- SONIA UNDOCUMENTED IMMIGRANT AND MOTHER.