Ayyam Gallery to offer Syrian artists works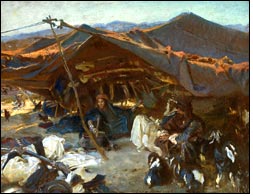 Spearheading the expansion of high caliber art across the Middle East, 'Art & Antiques Dubai' will exhibit treasured artworks including pieces by Picasso and Henry Moore.

'Art & Antiques Dubai', launched by Haughton International Fairs will bring together some of the top art and antique dealers under one roof at the Madinat Arena, February 21 - 24, 2008. It is the first fair of its kind in the region and is keenly anticipated by both the local Dubai community and visitors.

Dealers, Waterhouse & Dodd will showcase a small oil by American artist John Singer Sargent, one of the highlights of the fair priced at US$13.5million. Painted in 1906, the painting reflects his ongoing fascination with the Arab world and is titled Bedouin Encampment.

"Middle Eastern collectors have long upheld an enduring tradition of appreciating and acquiring beautiful and important works of art," said Brian Haughton, owner of Haughton International Fairs. "We believe the market is ready for a comprehensive top level art and antiques fair."

The international press including The Financial Times have already hailed the Haughton Organization as top leaders in the presentation of world class art and antique fairs.

Fine art on offer at the fair will range over period and contemporary, featuring western, Middle-Eastern and Far Eastern material with several dealers preparing to bring 'the best' from their collections.

Orientalist style paintings reflect the fascination of European artists in the 19th century with the Middle East and its way of life. This interest endures with Orientalist paintings highly sought-after on the international art market.