Display your love with Graff heart-shaped jewels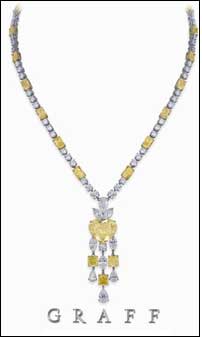 Graff, the world's leading purveyor of diamond jewellery, presents one of the most stunning spreads of heart-shaped jewels that could seriously turn the tide of love in your favour this season of romance! Why not, you may ask? The hardest substance known to man has always been the perfect expression of his deepest and most tender emotions and as is well known, this delightful paradox reaches new levels of expression when it is a jewel from Graff.

For this day of love, Graff presents jewel temptations that are both unique and marvelous and which make fitting tributes to that special person in your life. And this Graff does in the way it knows best by presenting lovers one-of-a-kind gem-glorious jewels of superlative essence such as cascading necklaces and exceptional earrings that proclaim the ardor of love with effortless ease.

So go ahead, this Valentine's Day display your love with:
The passion of red…
Heart-shaped rubies drenched in pomegranate red strike a stunning partnership with the brilliant white of diamonds in Graff's chandelier earrings.

Luscious, winsome and endearing this bewitching pair brings together perfectly proportioned marquise, round and pear shaped diamonds with the sumptuous beauty of heart-shaped rubies in white gold settings.

"How deep is your love?" When the Bee Gees sang their chart busting single in the '70's it must have surely been for moments as special as when you gift her this stunning creation for Valentine's Day.