Reliance Wellness to offer beauty solutions to Chembur people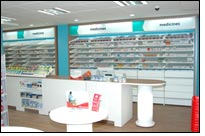 Reliance Retail announces the launch of its second Speciality store -"Reliance Wellness". Following the successful launch of Reliance Fresh, Reliance Digital, Reliance Mart, Reliance Trends, Reliance Footprint, Reliance Jewels, Reliance I store, Reliance Timeout, Reliance Super across the country this is another format of stores from Reliance Retail.

'Reliance Wellness' is the format of store that will add value to people's lives, by providing products and services that proactively work to enrich people's body, mind and spirit.

'Reliance wellness' Store at Jai Sai, 359, Ground floor, Westend Central Avenue Road, Chembur (East) is spread over 3100 sq.ft. and it stocks more than 8000 SKUs including pharmaceutical drugs.

'Reliance Wellness' will offer Pre-emptive, Curative and Health & Beauty Solutions which will provide world class products all under one roof and also educate consumers on their health needs, thus enabling them to take charge of their health.

'Reliance Wellness' brings a Unique assortment of best international and national brands such as H2O, Neutrogena, Muscletech, Olay, Sports Nutrition to name a few, in categories such as Nutrition, Sports Nutrition, Personal care & beauty, Cosmetics, Opticals, OTC, Health Foods, Self Help Medical & Fitness Equipment.

The assortment also includes alternate medicine, health books & music. Free Computerized Eye Testing service will be available in the stores.

'Reliance Wellness' stores will provide shopping ambience matched with the best international wellness chains. The store has 15 highly skilled and trained customer service representatives including pharmacists and an optometrist. All Pharmacists are trained in Good Pharmacy practices.