Eiman Marzouqi bags Swarovski Abaya Design Award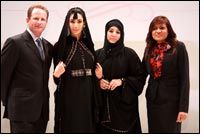 The winner of the inaugural Swarovski Abaya Design Awards was declared last night on the final day of The Bride Show Abu Dhabi.

Eiman Al Marzouqi took to the stage at the Abu Dhabi National Exhibition Centre when she was announced the winner of the competition for her Abaya which featured AED1,000 worth of Swarovski crystals and elements beautifully embellishing the traditional national dress.

"The last two months have been extremely busy preparing for the Awards. All final designs are so beautiful, I am completely speechless and so very surprised," said Eiman, who lives in Abu Dhabi. "I feel like I'm living in a dream just now and it's so hard to describe how honoured I am."

The finalists' designs have been on display during The Bride Show Abu Dhabi, alongside more than 200 regional and international exhibitors in the fashion, beauty and travel industries.

Visitors to the event have been voting throughout the four-day Show for their favourite Abaya; those votes counted for half of the final decision, after a panel of esteemed judges in the fashion industry examined the Abayas in terms of design, technique and innovative use of Swarovski elements.

The Awards came to an exciting culmination when each design, made by amateur fashion designers from across the UAE and Oman, was professionally modeled on the catwalk. Werner Baumgartner, General Manager of Swarovski Middle East, was welcomed on stage after the fashion show to announceEiman Al Marzouqi as the 2008 winner.