HEAD launches Performance Tennis Footwear line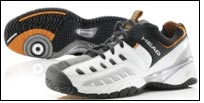 HEAD is stepping into the Tennis Footwear business with the launch of the Performance Tennis Footwear line. The new line incorporates elegance and attractive aesthetics to the new tennis shoe line, while enhancing and improving player performance on any court surface through the introduction of new footwear technology.

The new line incorporates the HEAD CXG technology which provides comfort, shock absorption, decreased foot fatigue, stability and motion control. A combination of turned polyethylene, polypropylene, nylon and saran fibres are shaped to form an interlocking coil structure within the sole of the shoe.

The coil is then encapsulated within a resilient polyurethane form. When the foot makes contact with the ground, the coil fibres compress and absorb shock. As the foot reaches the end of its stride, the coil structure produces an upward force, much like that of a resilient spring.

"The technology gives players responsive performance on all playing surfaces," said Robert Marte, executive vice president of HEAD's Racquet Sports Division. "Its benefits guarantee that they can play the game with less fatigue and faster maneuverability."

In addition to the HEAD CXG technology, the line of footwear will also utilize the HEAD Cooling System which creates "climate control" within the shoe by absorbing and releasing excess heat build-up. To ensure constant traction with maximum flexibility, the HEAD Radial Contact outsole technology is also featured in the footwear line. The Hybrasion outsole technology was developed to enhance resistance for the high stress areas of the tennis shoes.