Graff yellow diamonds spark with fire & passion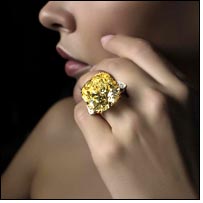 The house of Graff, the celebrated diamond jewellery expert, unveils a tempting array of bracelets, earrings, rings and necklaces featuring choice yellow diamonds.

Every piece from the selection splendidly showcases Graff's hailed artistry in precious stones that rivet your gaze with the mysterious glow of their multifarious facets and depths.

Lavish, audacious creations, they sparkle with fire and passion, epitomizing the design house's expertise at enhancing nature's raw and pristine glory.

Graff jewels stand out for their extraordinary beauty and rarity, aspects women have instinctively come to recognize from the start of its three decade history.

A definite standout in the selection is Graff's yellow cushion cut diamond bracelet in a total caratage of 71. 65. It lines up fancy yellow cushion cut diamonds in a sparkling train of slowly increasing sizes up to the centre of the piece and thereafter tapering off in similar fashion, closely hedged on either side by white brilliants.

This elegant bracelet makes that perfect accompaniment to an elegant dress. Yellow diamonds shot into the limelight mainly due to Graff unique jewellery creations that only use the best stones.

Take for instance its imperial drop earrings created mainly with white diamonds of various cuts from pear, marquise, emerald and finally one single yellow diamond in radiant cut dangling at the base like a magical trophy.

An equally glorious creation is the Waterfall chandelier earrings 'dripping' down in three streams in majestic array. It defies even gold's glitter, made up as it is entirely of yellow diamonds in radiant cut with the central strand dangling a marquise-shaped stone. It is a piece that you will definitely treasure for those special moments when you want to look your best.