Damas unveils Luca Carati sparkling impressions of nature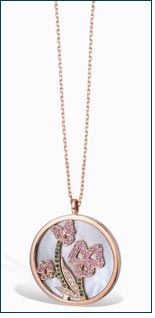 Damas, the leading international jewellery retailer in the Middle East, celebrates the legacy of famed Italian jeweler Luca Carati with a luxurious spread of new creations.

Purity of expression, excellence in craftsmanship and the use of the finest precious materials have become the hallmarks of this revered diamond jeweler which was founded in Valenza, Italy almost two decades ago.

Its jewellery finds expression as a spontaneous fusion and outburst of present and future, featuring the diamond as protagonist and blending superb innovation with classic elements.

"Each Luca Carati jewellery piece embodies an emotion the wearer can treasure forever. Behind its creation is the expert workmanship of seasoned artisans who employ traditional as well as the very latest techniques to offer the world some of the finest handcrafted jewels.

Diamonds, being Luca Carati's most vital component, are selected from the best markets in the world, and are of the finest cut and carat," said Mr. Tawhid Abdullah, Managing Director of Damas Jewellery.

Luca Carati's winning designs draw inspiration from nature's splendour. In its Capri collection, the tender outline of a stalk is framed and transformed into the most dazzling pendant in white gold and diamonds of the finest quality. The captivating design theme is replicated in sumptuous form on your finger as a ring!

One of nature's rarely seen phenomena, the gentle unfolding of a tendril, is captured in resplendent detail in concentric circles moving in a counterclockwise pattern in the Versailles collection.